PASADENA MONTHLY LIVE REPORT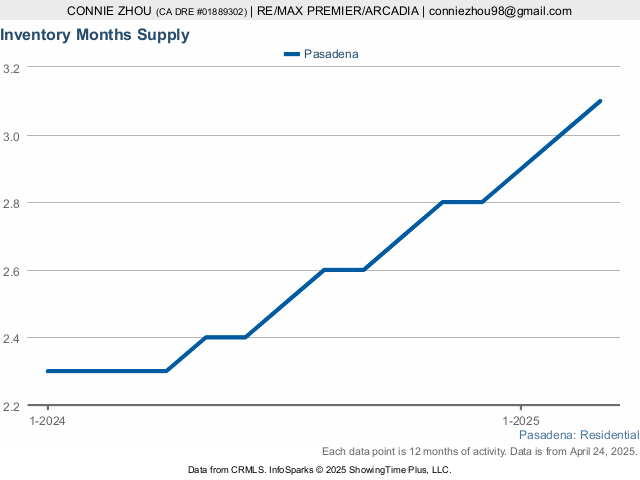 Months of supply is the measure of how many months it would take for the current inventory of homes on the market to sell
Months of supply is a good indicator of whether a particular real estate market is favouring buyers or sellers.
It is currently a buyer's market in Pasadena.
LEARNING ABOUT PASADENA
Pasadena is a city in Los Angeles County, California, United States, located 10 miles (16kilometers) northeast of Downtown Los Angeles.
The estimated population of Pasadena was 142,647 in 2017, making it the 183rd-largest city in the United States. Pasadena is the ninth-largest city in Los Angeles County. Pasadena was incorporated on June 19, 1886, becoming one of the first cities to be incorporated in what is now Los Angeles County, following the city of Los Angeles (April 4, 1850). It is one of the primary cultural centres of the San Gabriel Valley.
The city is known for hosting the annual Rose Bowl football game and Tournament of Roses Parade. In addition, Pasadena is also home to many scientific and cultural institutions, including Caltech, Pasadena City College, Fuller Theological Seminary, ArtCenter College of Design, the Pasadena Playhouse, the Ambassador Auditorium, the Norton Simon Museum, and the USC Pacific Asia Museum.
Elementary schools
Altadena Elementary School
Cleveland Elementary School
Don Benito Fundamental School
Field Elementary School
Franklin Elementary School
Hamilton Elementary School
Jackson Elementary School
Jefferson Elementary School
Longfellow Elementary School
Madison Elementary School
McKinley School (K-8)
Norma Coombs Alternative School
Roosevelt Elementary School
San Rafael Elementary School
Sierra Madre School (K-5)
Washington Accelerated Elementary
Webster Elementary School
Willard Elementary School
In November 2010 the PUSD board voted to close Burbank Elementary School and Loma Alta Elementary School in the Altadena area. In 2011 PUSD discussed the possibility of relocating a special-needs preschool and several nonprofit organizations to the Burbank campus.
Middle schools
Charles W. Eliot Middle School—grades 6-8
Washington Middle School-grades 6-8
Wilson Middle School—grades 6-8
Sierra Madre Middle School-grades 6-8
High schools
John Muir High School — Zoned, grades 9-12
Pasadena High School — Zoned, grades 9-12
Rose City High School — Continuation High School
Center for Independent Study – Independent Studies
6-12 schools
Marshall Fundamental Secondary School — Alternative, grades 6-12 (middle and high school)
Blair International Baccalaureate School — Zoned, grades 6-12